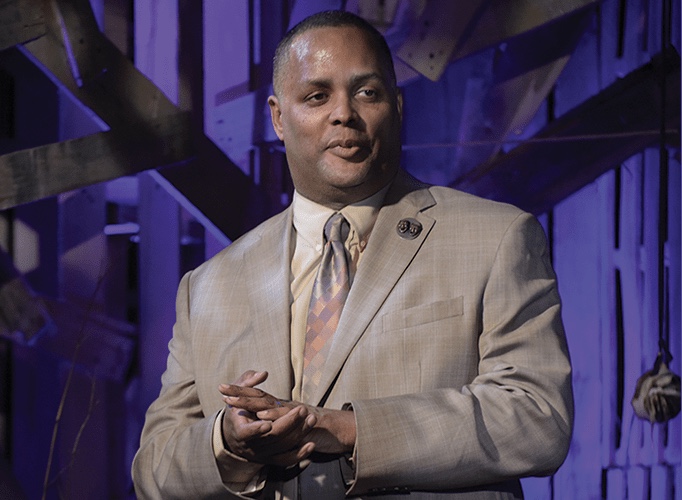 Mark Clayton Southers is an award-winning playwright, stage director, scenic designer, photographer and theatrical producer. He and his family reside in Pittsburgh's historic Hill District. He is the founder and producing artistic director of the Pittsburgh Playwrights Theatre Company where he has produced well over 160 full length and one-act plays, including August Wilson's complete ten-play American Century Cycle.
He has written over 20 full length and one-act plays including the poem play Angry Black Man Poetry aka End Angered Species which had a successful run at Teatr Śląski in Katowice, Poland in 2009 and Miss Julie, Clarissa and John which ran at the 2017 National Black Theatre Festival and also had a three-week run in 2017 at Scotland's prestigious Edinburgh Festival Fringe.
His directing credits include the August in February Series for the Pittsburgh Cultural Trust; Angry Black Man Poetry for Teatr Śląski; Ma Rainey's Black Bottom, The Piano Lesson, and Radio Golf for American Stage Theatre in St. Petersburg, Florida; Almost Maine for South Park Theatre; Gem of the Ocean for Human Race Theatre in Dayton, Ohio (named best director by Dayton Most Metro); Passing Strange, Fences, and Ma Rainey's Black Bottom for North Short Stage in Columbus, Ohio; operas Papa Doc, Paul Robeson, W.E.B. / Booker T, and Five for Trilogy: An Opera Company in Newark, New Jersey; The Sty of the Blind Pig for The Banyan Theatre Company in Sarasota, Florida; The Battle of Homestead for The Battle of Homestead Foundation; and A Gathering of Sons for Pittsburgh Festival Opera. For the Pittsburgh Playwrights Theatre Company, he has directed Dorothy Six, The Piano Lesson (twice), Two Trains Running (one of the Pittsburgh Post-Gazette's top ten plays of the decade), Seven Guitars (twice), VALU-MART, Jitney (voted one of the Pittsburgh Post-Gazette's top ten best plays of 2010, it broke all house attendance records), Gem of the Ocean, Ma Rainey's Black Bottom, and Fences. He is a four-time recipient of the AACTA Onyx award for Best Director.
After Mark attended a master class in playwriting conducted by August Wilson at the Grahamstown Arts Festival in South Africa, he attended the Edward Albee Theatre Festival later that summer in Valdez, Alaska where he did seated readings with Mr. Wilson of all of Wilson's plays. These encounters encouraged Mark to take up playwriting and devote more time to theatre arts. In 2003, Pittsburgh Playwrights Theatre Company was born, producing Ma Rainey's Black Bottom by August Wilson, which received critical acclaim and high praise from the playwright himself. Pittsburgh Playwrights Theatre Company has continued to grow and thrive, moving to the Cultural District in 2005.
From 2010 to 2013, Mr. Southers served as the Artistic Director of Theatre Initiatives for the 486-seat August Wilson Center for African American Culture in Pittsburgh Pennsylvania. During his tenure, he began a monthly August Wilson Reading Round Table, which featured plays from Pulitzer Prize-winning Pittsburgh native August Wilson, along with works by new up-and-coming playwrights. Readers included local actors and celebrities and occasionally, nationally renowned actors. Mr. Southers has also served as artistic director of the Short North Stage August Wilson Festival in Columbus Ohio.
Mr. Southers is a member of the Dramatists Guild of America.